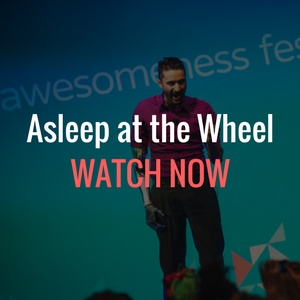 Watch Sam's Video: Asleep at the Wheel
In October 2006 Sam Cawthorn fell asleep at the wheel, before crashing into a semi-trailer at a combined speed of 206km/h. He was pronounced clinically dead by paramedics for three minutes.
Today, Sam shares his story to Fortune 500 companies and ​has ​written an international best selling book called 'Bounce Forward,' and 'Storyshowing.'
Watch as Sam shares his inspiring story at Awesomeness Fest Thailand, 2014. Sam is an authority in personal and corporate resilience, best selling author, professional speaking coach, philanthropist, and was named 'Young Australian of the Year' in 2009.
Sam's is a thought leader in 'peak performance and turnarounds', and his research and message focuses on 'bouncing forward' through difficult times. See incredible speakers like Sam live at Awesomeness Fest.
Awesomeness Fest is a global non-profit, transformational event that brings together people who are driven to change the world– entrepreneurs, authors, technophiles, mavericks, artists and visionaries alike. Like being at a festival that merges Burning Man, and an exotic vacation, you'll get to dance the night (and day) away at incredible parties, go on breathtaking excursions, form lifelong friends and connections and learn how to take your life to the next level both personally and professionally.