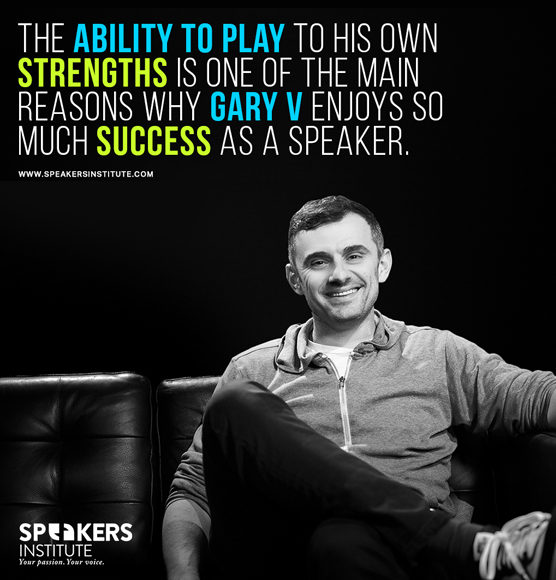 4 Little Known Ways Gary Vaynerchuk Built His Brand To Become An International Success

Hint: Tip #4 Is The Most Effective!
In the 1990s, Gary Vaynerchuk (Gary V) saw the Internet as something with great potential. He clearly had remarkable foresight given how all-encompassing the web is in the modern day.
But back then, speaking was the furthest thing from his mind. In fact, Gary V saw the internet as the perfect place to create an e-commerce platform for wine. Starting from the base that his father's liquor store gave him, Gary built a website.
In five years, that website went from generating $3 million in revenue to $60 million.
But Gary V wanted to do more. The emergence of YouTube prompted him to create an episodic show about wine. 1000 episodes later and Gary V had become experienced in speaking in front of an audience.
Television appearances followed. Gary V also built a strong social media presence during the early years of those platforms.
Gary leveraged his personal brand into the creation of VaynerMedia. An advertising company, VaynerMedia is now the main focus of his attention.
However, Gary's story has also made him one of the most in-demand speakers in the world. He's published five bestselling books and has built an empire around his ability to engage an audience.
Gary V is a storyshower. It's how he's managed to stay relevant as the internet and the tools available to him have evolved.
Here we're going to look at how he created his own personal brand and what you can take away from his story.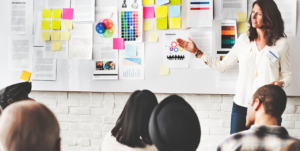 Tip #1 – Know What Your Strengths Are
The ability to capitalise on his strengths is something that has defined Gary V's career.
In the early days, he combined his knowledge of the liquor business with his understanding of the early internet. In doing so, he created a business that survived the dot.com collapse and made him millions of dollars.
Gary also identified that the story behind both his business and the wines it sold held power. That's what prompted him to create a YouTube series. From there, he built his personal brand further.
Gary says that you have to be honest with yourself about what your strengths really are.
"You can't take a romantic view on the skills that have made you successful so far in life," he says.
"For example, you might have been a straight A student even though you have no passion for academics. Or you're naturally amazing at basketball, but that isn't what you truly want to pursue."
Gary goes on to say that you can still leverage those strengths to discover new talents.
That's something that many Speakers Institute clients do. Many find themselves at an impasse in their careers. They've achieved everything that they've set out to achieve and now they've lost their passion for their work.
But the experiences they underwent during their careers are their key strengths as speakers. They can draw on these experiences to craft stories and show people how to achieve similar levels of success.
Speaking becomes their true passion. But the power behind their words comes from the strengths that they identify while developing their skills.
Playing to your strengths also ensures you avoid trying to become a "jack of all trades". Instead of speaking about everything, you find your niche and stick to it. This lends authenticity to your words, which turns you into an authority. It's through that authority that you emotionally engage your audience and develop your personal brand.
Tip #2 – Don't Focus on Other People's Stories
Many speakers look to others for inspiration.
That's a good practice…when used correctly. Other speakers can teach you a lot about technique and building a business.
What they can't teach you is the unique thing that allows you to build a personal brand.
As Gary V puts it: "My game is about me knowing myself."
The point he's making is that he focuses his content on his audience. Gary doesn't try to emulate other speakers in the hopes of capturing their audiences. He doesn't take on topics that he has no familiarity with either. That leads to a lack of authenticity, which makes an audience struggle to connect with the speaker.
Gary sticks to his area of expertise and draws from his audience's input to figure out which stories to show them.
He points to listening to your audience as one of the keys to creating your personal brand. They're the people who've already connected with you. Answer the questions and show them stories that inspire them. If they're satisfied, they'll often share your stories with likeminded people.
That's how you build an audience.
Every speaker has a unique story to tell. If you stray too far away from that story, you risk muddling your brand and alienating your audience.
There isn't a perfect person that you need to become in order to create a personal brand. Your brand is yourself, flaws and all. Your own personality is the best thing to build your brand around.
Tip #3 – It's Not All About The Hard Sell
Many speakers jump straight into their hard sells.
They tell people about what they have to offer and then try to get them to buy into it. More often than not, the approach doesn't work.
Audiences have evolved over the years. They want speakers to show them something that engages them before they come close to making a purchasing decision.
"I'm building for the long term because I think it's about the brand," Gary says. "So many of you are in it for the quick sale, and you are going to be forgotten."
Apply this line of thinking to your personal brand. If you're constantly having to tell people who you are and what you stand for, you're not doing a good enough job of showing them. It should shine through with your personality.
Hard selling your virtues is tantamount to hard selling a product. You may get a couple of people to buy into it in the short term. But the message holds no substance. Eventually, you alienate the audience and they no longer connect with you.
You create a deeper connection if you can show the audience your values through your stories and actions.
Again, it comes back to the crucial point of being yourself. You don't have to be a natural seller to show people a story. Trying to force the hard sell, be it for a product or your personality, comes off as inauthentic.
Be a storyshower who connects with their audience. The selling part comes naturally when you're working with an engaged audience.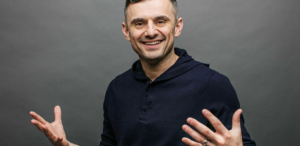 Tip #4 – Lower Your Guard
Gary often talks about authenticity when creating a personal brand. If your audience doesn't believe that you are who you say you are, they aren't going to engage emotionally.
And if they don't engage emotionally, they're not going to buy.
Your stories are how you connect with your audience. But to deliver them authentically, you have to lower your guard.
"If you're unable to convey your story, consumers will not consume your product, whatever that may be, whether it's content or entertainment or food," Gary says.
"Whatever it may be, if you're not capable of telling a story, you are not in the game with human beings, because that's what they want, that's what they do, that's how they roll, and it's the main principle of marketing in our society."
Show vulnerability and don't try to hide behind a mask. If you're showing a shocking or tragic story, make sure you convey the emotions behind it. Don't hide behind humour in an effort to make the story more palatable. Doing so reduces its impact and shows the audience that you're hiding how you truly feel.
Speakers Institute founder Sam Cawthorn discovered this early in his career. His story about losing his arm in a vehicle accident had plenty of emotional power. But he'd try to use ill-placed humour to reflect away from the genuine emotion behind the story.
He'd lose his audience as a result. They could see that he wasn't showing them the full story. As a result, they saw him as inauthentic.
It was only after lowering his guard and letting the audience in that Sam was able to connect.
That's what Gary means when he speaks about the ability to convey your story. It's not all about the words that you speak. It's about the passions and emotions that you show while speaking.
The Final Word
Gary V has built a brand and a career based on his own personality. He's never tried to be something that he's not even though he's tried his hand at multiple business ventures.
That's why he succeeds.
Gary is a storyshower who built his personal brand because he's never anything less than authentic.
You can do the same. Identify your strengths to find out what makes you unique. Take inspiration from other speakers, but don't rely on others to build your personal brand. Show people your story instead of constantly going for the hard sell. Finally, break your own walls down so you can show people the true emotions behind your stories.
Speakers Institute can help you become a better speaker as well as helping you to build your personal brand. We recommend that you do the following:
Together, we can help you to build a powerful personal brand.