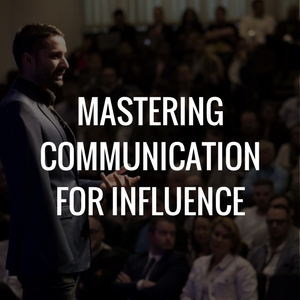 MASTERING COMMUNICATION FOR INFLUENCE
The Power of Effective Communicating for Affecting Change
Advertising, social media and other peoples opinions are affecting change more rapidly today then any other time in history. These messages that we are exposed to every moment of every day are affecting the way we think, react and influence. These messages are the modern day dictator.
To lead a company, a team or a movement towards positive powerful change, we must learn how to master communication.
Research tells us that the most influential people in the world today are masters of communication. They are affecting change, empowering progress and are today's real leaders.
Through studying the greatest communicators of all time, I have discovered an easy 5-Step process to help you communicate more effectively.
1. Problem
If it's not relevant people switch off or unsubscribe. Your message must address a problem in order for it to be relevant and valuable. (Value is not value unless it addresses the problem of your target audience)
2. Idea
What is the one idea, the solution, the disruptive thought you want to get across? Don't, beat around the bush, just tell it straight. But make it one idea. (The human brain comes up with 65,000 ideas every day. We do not have an ideas problem. Focus one one and do it well)
3. Evidence
In order for your message/idea to be heard and applied, you must give a WHY. Research tells us that a third of your audience will be either academics or skeptics. This is why you need evidence, study and research to support your case.
4. Metaphor
The greatest communicators in the world are master storytellers. Use a powerful story of meaning as a metaphor to help anchor your message/idea into the hearts and minds of your audience.
5. Take Away
You must give a call to action after you have convinced them of the message/idea. This is where you ask them to do something, disrupt a negative pattern and create a new one, or give them a solid formula through a proven system, strategy or step by step guide. (A diagram or model explaining your theory here works well)
Trust this help you in your journey.