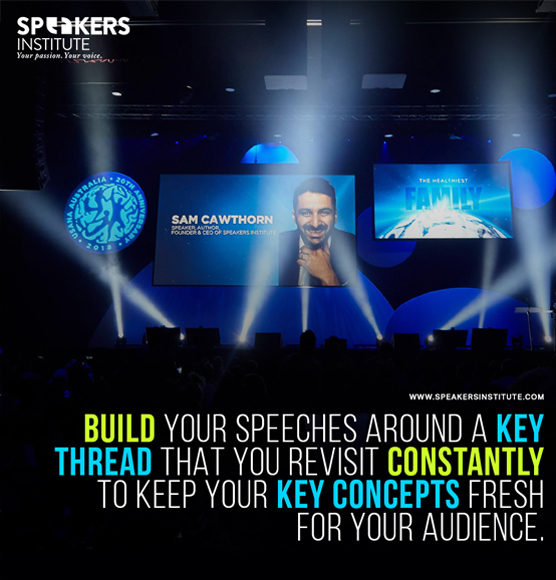 How Two People (One of Who Is Visually Impaired) Became In-Demand Speakers
Your story has the power to inspire and influence others. No matter your background, you have a message to share. Find out how two Speakers Institute clients became expert storyshowers.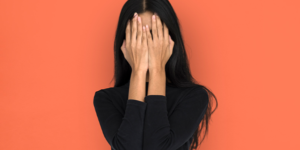 The things that we experience during our lives mould us into the people that we are. Every experience, whether big or small, shapes our stories.
Everybody has something unique to offer. Your background is the key to becoming a successful speaker. The moments that have made your story what it is are what you can use to influence others.
But it's not enough to tell people your story. Audiences hear people talking about themselves every day.
You need to become a storyshower.
A great storyshower unlocks the true meaning behind their story. They connect with their audiences on a deep emotional level and inspire them to make changes in their lives.
Being a good storyshower is not something that you're born with. It's a skill. And like any skill, it's something that you can train and refine.
That's exactly what the two Speakers Institute clients that we're going to look at did. Both had very different stories to show. And with our help, they became influencers and forged new careers for themselves.
Catherine's Story
Like many people who turn to speaking as a career opportunity, Catherine found herself stuck in a rut. She had operated a small training company for the better part of two decades. The work paid the bills, but she'd lost her passion.
She found herself turning up to work and going through the motions. While she'd learned plenty of valuable things during her career, she felt as though she'd plateaued.
Simply put, she felt bored and needed to find a change.
A little research into new career opportunities led to her discovering Speakers Institute.
It was at this moment that she decided to draw on her own experiences to become a storyshower. She had the authority and knowledge to help people to become experts in her previous field.
Yet she struggled to get her message out there. She lacked the one ingredient that could bind it all together.
Catherine decided to attend a Speakers Institute bootcamp to find out how she could establish her niche. It was here that she learned about the concept of the key thread.
The key thread is that unique little something that marks you out from all of the other speakers in your field. Through her work with Speakers Institute, Catherine established her key thread and embarked on a brand new career.
With our help, she wrote and published a book, which has become a bestseller all over the world. Today, she's a keynote speaker who experiences great demand in the international speaking circuit.
Tip #1 – Find Your Key Thread
Catherine's speaking career took off when she figured out her key thread.
So, what is a key thread?
Your key thread is the idea or insight that sets your story apart from everybody else's. It's something that you've drawn from the unique experiences that make up your story.
A key thread could be the solution to a problem or the answer to a question. It could even be a simple statement that you come back to repeatedly while speaking.
You could argue that it's the most valuable part of your story because it's what your audience came to hear.
It's the glue that holds your entire speech together. It's the anchor around which you build the rest of your story.
Speakers Institute founder Sam Cawthorn has several key threads that he builds his speeches around. These include "storyshowing" and "bounce forward".
These are concepts that he explains through the stories that he shows. Every aspect of his speeches revolves around returning to that key thread. Continued repetition and revisiting of the thread cements it in the audience's minds. And with that task accomplished, you set the stage for introducing new concepts that can influence them.
Think about the key thread that pulls your story together. What's the overall message that you wish to show people? What's the one thing that you want them to take away from your speech?
What can you show them that nobody else has to offer?
That's your key thread. Find it and establish it with your speaking.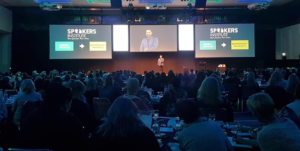 Dan's Story
Unlike Catherine, Dan did not have a successful career from which he could draw inspiration. In fact, Dan struggled to hold down a job at all.
Unfortunately, Dan had a visual impairment that he'd struggled with since he was a child. This disability led to many potential career paths getting shut off. And the careers that he attempted to forge often resulted in a lack of success.
Where many might have given up, Dan wanted to follow a better path. He knew that he could achieve so much more with his life. He just needed to find an avenue where his disability could help, rather than hinder him.
His research led to him discovering Speakers Institute. He realised that what he'd experienced while living with his disability had given him a unique story to share. Now, he just needed to learn how to show it to people.
Dan trained with Speakers Institute to develop a brand new skillset. In doing so, he learned so much more than how to show his story. He also learned about the business that lies behind speaking. He created his message and built the marketing platforms needed to get it out. He created a demo reel and benefitted from Speakers Institute's network. Dan was able to introduce himself to the international speaker's circuit via Speakers Institute.
Today, Dan is a storyshower who charges thousands of dollars per speaking engagement. He's built a multi-million dollar speaking business off the strength of his own story.
Tip #2 – Find Inspiration in Tragedy
Dan's struggle would be enough to grind many people down. However, he used it as the inspiration he needed to try something new. Instead of accepting a life with few prospects, Dan realised that he had a unique story to share. Discovering Speakers Institute was the first step on his journey to becoming a successful speaker.
In some ways, Dan's journey mirrors that of Speaker's Institute founder Sam Cawthorn. A car accident took Sam's arm when he was a young man. Much like Dan, Sam struggled to see the light at the end of the tunnel. However, he also realised that his story could inspire others if he learned how to show it properly.
Both found inspiration in the depths of tragedy. Instead of allowing circumstances grind them down, they discovered the unique value that their stories have to offer.
You can do the same. The pain that comes from a tragedy can be the emotional fuel that you need to inspire others. Show your vulnerability and help your audience to see that something good can come from the worst situations.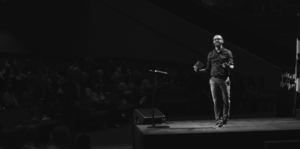 Bonus Tip – Understand the Power of Stories
Both Dan and Catherine has unique stories to share. But that isn't enough to become a great storyshower.
That's the mistake that many speakers make. They believe that telling their story is enough to emotionally engage an audience. They go through the motions and recite the same tale over and over again. In doing so, they offer their audiences very little reason to care.
They fail to unlock the power that's buried away in their stories.
Sam Cawthorn experienced this early on in his speaking career. His first attempts to tell the story of what happened to him resulted in failure. People just didn't buy into it. They believed what he was telling them. However, he constantly hid behind a mask to avoid showing his vulnerability and the true emotions behind his story to his audience.
It was only after ditching the forced humour that he was able to connect with people on a deeper level. The tragedy that affected him had the power to inspire others. Every attempt to hide his emotions led to that power waning.
Don't make the same mistake. Draw upon the emotions that your story invokes. Show people how you felt when the experiences you described actually happened to you. They'll connect with you because you've opened yourself up. From there, you can show them the value that lies within your story.
The Final Word
Dan and Catherine came from completely different backgrounds. Where one had achieved career success, the other had failed repeatedly due to circumstances beyond his control.
Yet from these wildly different backgrounds, both became expert storyshowers.
That's because every story has the power to engage an audience and deliver a valuable message. The key lies in unlocking the story's potential and showing people what makes it so important.
Identify your key thread and reinforce it whenever you speak. Draw upon tragedy to inspire your message and don't be afraid to show people your real emotions. When you hide from how you feel, you can't expect an audience to view you as authentic.
This article shows you that you can become a storyshower regardless of your background. You just need the right guidance.
Speakers Institute can help. Do the following to start your journey towards a new career:
Our experiences shape your story. Learn how to inspire and influence others by showing your story to them.