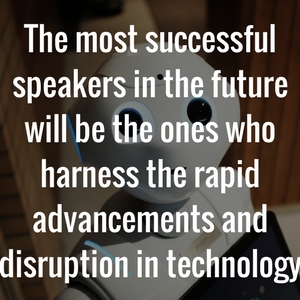 The Most Successful Speakers in the Future Will be the Ones Who Harness the Rapid Advancements and Disruption in Technology
Highly paid speakers and coaches in tomorrow's world will be the ones who harness the rapid advancements in online video and technology to meet the demands of the first fully digital generation.
If you really want to understand the future, you have to start with the people who are going to live in it, and the most disruptive group of future event managers are people who are currently celebrating their 26th birthday. If you can understand how a 26 year old thinks, you're a long way toward really understanding a transformative change in event consumer behaviour.
This group is of particular interest because they were born in 1989, and started their careers in 2005. The same year the first smart phones were released, which created Internet accessibility in your palm – also the same year that Youtube was invented and released.
They are the first generation to be connected from entering into the workforce, so they are growing up with a much different outlook on how they will be sourcing speakers, engaging experts and discovering thought leaders in tomorrows world.
They will expect speakers that are 'Youtubable', and their profiles and web presence easily accessible and workable on mobile devices. They want to see information through video rather than written. They want to see you on the first page when they Google you.
They also expect customized video proposals and want speakers that are readily available. The speaker should have a recognisable face that they may have seen once or twice through an image shared on social media, or a video they saw in high school.
When you think about a twenty six year old, the way they will be making judgments about their personal development or event management value, it's all going to be very connected to their experience on that smartphone. They want to see speakers with an Instagram and Periscope account, and up-to-date social media profiles and shares.
The challenge for the entire event and speaker industry is to be prepared to meet the demands of these tech-savvy, video on-demand consumers while still producing enough content for a population expected to grow to about 9 billion by 2050.