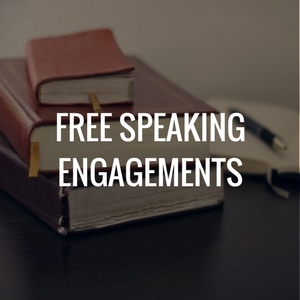 FREE SPEAKING ENGAGEMENTS
As a professional speaker I am regularly asked to do free speaking engagements.
The answer is always maybe.
Firstly, let me say that it is hard to get through to Professional Speakers and get them to commit to doing anything for free. Charities, non-for-profits , association groups, BNI meetings, Rotary Clubs and the list goes on, can rarely afford a professional speakers fee.
So, as a professional speaker, I have below four secrets that will help you decide if the speaking engagement is right for you and there is a win win for the speaker and the event organizers.
Before I get into the four secrets you must decipher why they are not investing in the speaker.  A great conversation to have, though a little unorthodox and assertive, goes something like:
"How much are you spending on the tea and coffee for the event? How much are you spending on the food, stage and other arrangements for the event? In a weeks time, a months time or a years time, what do you want them (the event attendees) to remember? The tea and coffee, the food and stage setup for the event? Or the way the speaker transformed their lifes forever, how the speaker ignited the team to take action, raise productivity and make a profound positive impact to the lives of the attendees, and ultimately boosted profits. "
I know this conversation is a little harsh but it's the truth. The speakers for an event, MAKE THE EVENT. They encourage conversation, inspiration, transformation and activation.
Below are the four secrets that will help you decide if the FREE speaking engagement is right for you and there is a win win for the speaker and the event organizers.
1. Ask if you can get the details of everyone in the room.
This is NOT so you can spam them for the rest of your life. It's so you can give attendees outstanding follow-on value, to position you as a trusted credible expert. Then maybe do a soft sell on an offer they can't refuse. (80% value first, then 20% soft sell)
2. Ask if you can video the event
Getting video footage of you being on stage, particularly the large stages is great. The more demo video of you being on stage the better, for ongoing work and feedback of your style. Event organisers and speaker bureaus always look for in a video: confidence, competence and charisma. Video testimonials from attendees at the event are also gold, for ongoing speaking opportunities and credibility.
3. Ask if you can sell an offering on stage
I once was talking to a professional speaker and he had no product or resources. His book was about to be released but he had nothing to offer to his audiences that they could take away with them. I told him to create a product on the spot, it was a 5 part coaching package with one on one sessioms and coaching calls valued at $2997. He sold 10 of them at this one event. All he had to do on the day was do put together a 1-sheet of together with the relevant offer and credit card details. Give outstanding value, then make a relevant offer to your audiences that they cannot refuse.
4. Ask if there is any ongoing opportunities
Doing a free event is a great way to showcase yourself to an audience that uses professional speakers regularly. Some great platforms would include: MEA events (Meetings and Events Australia) PCO events (Professional Conference Organisers), AIME (Events and Meetings expo), Speaker Bureau showcase events (Many speakers pay to be on these stages) even a large Bluechip or Fortune 500 company that books speakers regularly. Google is one business that does not pay professional speakers to speak at many of their events, though just to get a Google testimonial is gold for credibility and positioning.
These four secrets will really help you to ascertain whether the free speaking engagement is right for you with a win win.
Something else to consider is that when I coach my speakers, I tell them that you are doing the industry a disservice if you charge either a low fee or a no fee. We are professionals. We give value and truly make a difference. Do not be afraid to charge what you are worth.
In my next post I'll be sharing with you the 10 speaker price points.