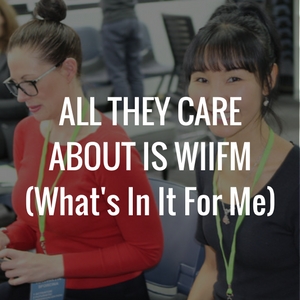 ALL THEY CARE ABOUT IS WIIFM (What's In It For Me?)
Your audience don't really care about you, they don't care what you think, your opinion or your message.
All they care about is WIIFM (What's In It For Me).
This means that the Speakers Institute 'Authority Communication Framework' is IMPERATIVE!!!
The Authority Communication Framework is for anyone that wants to get their point of view across in a powerful way. Whether you are a speaker, sales person or a manager/leader, this framework is right for you.
1. PROBLEM – "Have you ever felt…"
Here you show that you understand how they feel by addressing their problems. You exaggerate their problem & build a case.
2. IDEA – "I have found that…."
After showcasing you know how they feel you show that you have the antidote to their problem. Here you must say the right words, and terminology of your message, in the right way. Try to make this 'key thread' disruptive so it stands out.
3. EVIDENCE – "Research shows us that…"
Here you showcase your credibility and authority by telling them the research, facts, stats & case studies to back up your idea. Connect with their heads first.
4. METAPHOR – "There was this one time when…"
After connecting with their heads, now it's time to connect with their hearts. Get their gut connected to the idea. Your greatest trump card is your story, so use it as a powerful metaphor to anchor the idea and key thread. Toggle between story and WIIFM.
5. CALL TO ACTION – "Today I want to teach you how to…"
Here you give them your teachable Framework, your IP (Intellectual Property). We learn in 3s, so try to keep your CTA in 3 points, though it must always lead back to your key thread, your idea. Give them your 'how to's', and ensure it's your best value. Use the ACF to anchor it in.
Trust this helps you on your journey…